I. Policies for Routine Registration of Akbash Dogs in ADI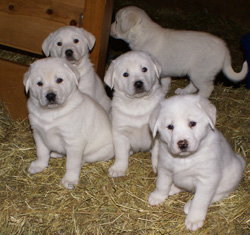 Policies for registration of Akbash Dogs with the Akbash Dogs International Registry have been implemented to aid the breeder and owner in registering their Akbash Dogs. In brief, a breeder registers a kennel name and obtains tattoo letters from the Registrar. Breeding dogs have hips evaluated by the OFA and/or PennHIP. Each litter and pup is registered by the breeder of the litter. When an older dog is obtained, the owner may register the dog by writing to the registrar for an application form or using the form on the website. Imported dogs, or Akbash Dogs from other registries may also be registered with additional documentation. Any unusual or contested applications will be referred to the Board for a final decision.
Akbash Dogs are registered with ADI on an individual basis. Breeders register their litters and the individual puppies. In order to do this, breeders first need to register a kennel name which will be used in the registered name of the pups they produce. A tattoo code is also selected at this time to identify pups from different kennels. Prior to sale, each pup must be permanently identified with a tattoo or microchip. When at all possible, the ADI tattoo code should be used. Breeders register each litter, and all the individual pups or dogs from the litter. Assuming both parents have met the requirements for hip certification, the breeder designates each pup as provisional breeding or non-breeding quality. At the age of two years, the breeder may change a status of provisional breeding to breeding quality. All forms and instructions are available by writing to the Registrar, or on the website. Application fees for registration are non-refundable.
The paragraph above describes a mechanism which is available to breeders to distinguish breeding from non-breeding quality Akbash Dogs. At two years of age, when OFA and/or PennHIP results, possibly CERF results, and adult physical characteristics and temperament are evident, a breeder may choose to upgrade the status of a dog to breeding quality. (Buyer/seller agreements may have to be altered to incorporate this concept.) Breeding quality dogs will have OFA certified hips rated excellent, good or fair, or PennHIP DI values of less than 0.51 in each hip.
An Akbash Dog owner who believes her/his ADI-registered dog is of breeding quality, but who cannot obtain a change-of-status from the breeder may petition the Board of Directors for a change to breeding status. The Board will require a non-refundable processing fee, and employ a method similar to that used to evaluate Akbash Dogs imported from Turkey (see section IV).
Active member breeders are breeders with a registered kennel, who are ADI members in good standing and who register all their eligible dogs, and litters with ADI. Puppies should be registered within one year of age. Such breeders are automatically included on an ADI breeders list provided by the secretary or registrar to people inquiring about dogs and puppies. Active member breeders also have the option to list their kennel on the ADI website for a yearly fee.
II. Registering Akbash Dogs Whose Parents Lack OFA or PennHIP Certification
ADI is committed to ethical breeding practices, including eliminating all known heritable defects from Akbash Dogs. Policies on breeding dogs and a Code of Ethics have been adopted with these goals in mind. Breeders are urged to adhere to them. Hip dysplasia is one such defect that ADI is prepared to eradicate. To that end, the following policies have been adopted:
Pups from ADI registered parents who are not certified by the OFA or PennHIP evaluated cannot be registered with breeding quality status until their parents' hips are certified by the OFA or PennHIP, and both parents are upgraded to breeding quality status.
In cases where one or both parents are not OFA or PennHIP certified and not registered with ADI, and the owner of such offspring cannot obtain compliance with the breeder to OFA or PennHIP certify their breeding stock, or the parent(s) are deceased, an owner must OFA certify their dog with either a Good or Excellent rating or a PennHIP DI value of less than 0.51 in order to consider such a dog as breeding quality. This would allow potentially valuable genes from outside ADI registered dogs to be used in a breeding program.
If 25% or more of a litter is known to be dysplastic, the breeder will be informed and encouraged not to repeat that particular breeding. Individual owners of that litter will also be notified of this situation.
III. Registration of Akbash Dogs from Other Registries
Purebred Akbash Dogs registered with the Akbash Dog Association Registry (ADAR), the United Kennel Club (UKC) and/or the National Stock Dog Registry (NSDR) are eligible for registration in the ADI registry if their application is accompanied by a copy of the ADAR, UKC and/or NSDR registration certificate, and they are otherwise eligible for ADI registration. Applications for transfer of registry must also include four color photographs of the dog standing, taken from the left and right sides, the front and the back of the dog. All photos and documentation will remain with the Registrar.
The Board of Directors may accept for consideration applications to the ADIR for other purebred Akbash Dogs. Such dogs must be at least two years of age at the time of application. The owner must submit any information he/she has about the origin of the dog. The Board may ask for any other information it deems necessary. The Board has the final authority on all registration applications.
IV.Registering Akbash Dogs Imported From Turkey
These rules apply only to individual purebred Akbash Dogs born in and imported from Turkey. Since Akbash Dogs International is an international organization, individuals born in and imported from any other country should meet the qualifications for regular registration.
Any purebred Akbash Dog born in Turkey and imported into a second country, such as Canada, Mexico, the United States or the EU may be registered in the ADI Registry. In order to prove its purebred origin in Turkey, the following information must be provided to the ADIR.
The name and address of the present owner(s) and the importer(s).
The date of importation and copies of all importation documents.
Two copies each of four color photographs of the following poses: front, back, right side, left side. Photos should be of good quality and taken at the level of the dog.
A video of the dog standing and moving at a walk and a trot or run. The dog must be filmed from the rear, the front and both sides.
Copies of the certificates of registration if the dog has been registered in any other registry, such as the National Stock Dog Registry, States Kennel Club, FCI, UKC or any other Akbash Dog Registries.
The name of the vilayet (province) where the Akbash Dog originated and/or the nearest town of any size. It is urged, but not required, that the importer submit for historical record the name of the Turkish owner, the village of origin, photographs of other Akbash Dogs believed to be related, etc.
Akbash Dogs imported from Turkey prior to July 1, 1990, registered in another approved Registry and meeting the qualifications for transfer of registry should be registered in ADIR by regular application. Owners of all Akbash Dogs imported after this date must make application to ADIR as an import dog.
Applications for registration of imported Akbash Dogs from Turkey should be sent to the ADI registrar who will forward them to the Board of Directors for consideration.
Any two Board members may request a visual inspection of the dog and pups if they deem it necessary.
Additional information may be requested by the ADI Board. The Board's decision shall be final. The applicant may reapply for registration after one year if denied at first.
V. Fee Schedule
The fee schedule will be as follows (in U.S. funds):
| | |
| --- | --- |
| Registration of a kennel name | 30.00 |
| Registration of each pup in litter by ADI breeder | 8.00 |
| Change of name within one year of puppy registration | 5.00 |
| Change of name after one year of puppy registration | 10.00 |
| Replacement certificate | 7.00 |
| Registration of individual pup or dog out of ADI parents, by owner | 10.00 |
| Transfer of ownership of a registered dog | 10.00 |
| Transfer of registry to ADIR from another Akbash Dog registry | 10.00 |
| Change of breeding status of an ADI-registered dog | 10.00 |
| Petition to Board for change of status of an ADI-registered dog | 45.00 |
| Registration of an Akbash Dog from unregistered parents | 45.00 |
| Official pedigree for ADI breeders at time of registration | 8.00 |
| Official pedigree | 10.00 |
| Yearly ADI breeders kennel listing on web for qualified breeders | No charge |